Command – Inside the Features: General & User Interface
September 18, 2013 · Posted in
Command
Version 1 of Command: Modern Air/Naval Operations is just around the corner and it's a good time to summarize the features that make it really stand out. Starting with general infrastructure and user interface. (Click on images for full screen).
GENERAL
Scope, scale & detail: Command enables scenarios that can range from a muzzle-to-muzzle gunboat duel all the way to intercontinental-scale operations, and does so at a level of detail that starts from literally counting every gun shell or missile and goes all the way up. This combination of scale and detail has, to our knowledge, never been attempted in the public domain before – and with good reason; it's not easy. Command harnesses the raw horsepower of modern PCs and uses modern software frameworks & tools to deliver an altogether superior wargaming experience.
Standard Windows interface: This has become a point of criticism by some ("it looks more like an Office application than a game!") but we consider it to be one of Command's core player-side strengths. Following Windows' standard UI infrastructure means we are able to both create new UI elements and change existing ones with minimum effort and complications. It also allows us to integrate Microsoft's design improvements to its standard UI elements "for free".
The Windows desktop environment you know and (ahem) love
Being a windowed Windows app also means easy switch between this and other programs, easy multi-monitor support (more on this later) and all the other benefits of the Windows desktop ecosystem.
Performance & scalability: Quick now – how many units were present on-map in the last air/naval game you played? A few dozen? Around a hundred? Command can comfortably handle more than a thousand active units in a single scenario ("Shamal", a Desert Storm-focused 1200+ unit scenario, runs well at 1-30 sec time acceleration on a mid-range Core i5 under Windows 8), and can even scale up to thousands of units if the player can handle the slowdown – or has a liquid nitrogen-cooled Cray in the basement. To achieve this, Command aggressively uses modern CPUs with multiple cores, fast memory as well as low-latency hard disks (or even better, SSDs).
These numbers are not about bragging rights: Getting this kind of performance means that situations hitherto impossible to model in detail (e.g. global thermonuclear war with all the historically-accurate strategic forces) can now be simulated and played out. It's about opening new horizons on what you, as a player and/or scenario creator alike, can accomplish.
It is important to note that Command's blistering performance does not come at the expense of simulation fidelity. Common "acceleration" performance tricks of other games like, for instance, updating positions of units only every 15 sim-seconds (with occasional hilarious bugs as a result – "look ma! This bomb went right through that target without impacting on it…") are simply not acceptable in Command. After all, hardware is getting faster and cheaper by the day – but killer bugs can destroy even the highest-performant experience.
USER INTERFACE
Google Earth-style map: If you've labored with 2D maps that you know are unavoidably distorted (particularly getting closer to the polar regions) you will definitely appreciate having a true 3D representation of the earth globe at your disposal.
It's a small world
Having a single unified map for any scenario instead of per-scenario maps also means you can construct and play scenarios spanning very large distances and distant theaters. A trans-Atlantic convoy crossing and at the same time a huge air/naval battle in the Pacific? Not a problem. World War 3 running in all major theaters concurrently? Can do (if the machine can handle the load). You are now only limited by your PC's horsepower and your imagination.
Customizable information layers: Which units are being targeted by Nighthawk #1? Which of them is the primary target? Is it currently lazing any target – if yes, which one? What is the estimated missile coverage of that enemy SAM battery just detected? Which emissions are detected from it? Is it just searching as usual or has it actually locked on to any of our aircraft? What is Kim Kardashian having for dinner tonight? (Okay, we don't really need to know that last one). Command provides a rich set of user-selectable map information layers to enhance your situational awareness.
No sense sweating to blast through the defenses if you can simply go around them.
Apart from the usual suspects also featured in other games (range rings for friendly sensors and weapons etc.), Command goes the extra mile and adds targeting vectors (who is targeting whom), illumination vectors (who is "painting" who for semi-active weapons, e. g. LGBs or Sparrow or Standard missiles), weapon datalinks (who is providing guidance for that AGM-130 about to dive on that bunker? Not necessarily the guy who dropped it!), non-friendly weapons & sensors (if the contact in question has been classified and located with sufficient precision), detected contact emissions (that land contact just lit up a Straight Flush – it's _probably_ not the local hotel owners annual meeting…) and more. And when the range rings displayed on the map become one too many but you still want to view them, you can even have them merged so that the clutter clears up.
Built-in and custom map overlays: Command's built-in map layers include a global "Blue Marble NG" tileset and a custom relief layer derived from our terrain elevation data. Pretty as they are, their true value lies in their tactical utility: Depth and elevation can be some of your best allies if you understand and use them properly, or your worst enemies if you ignore them.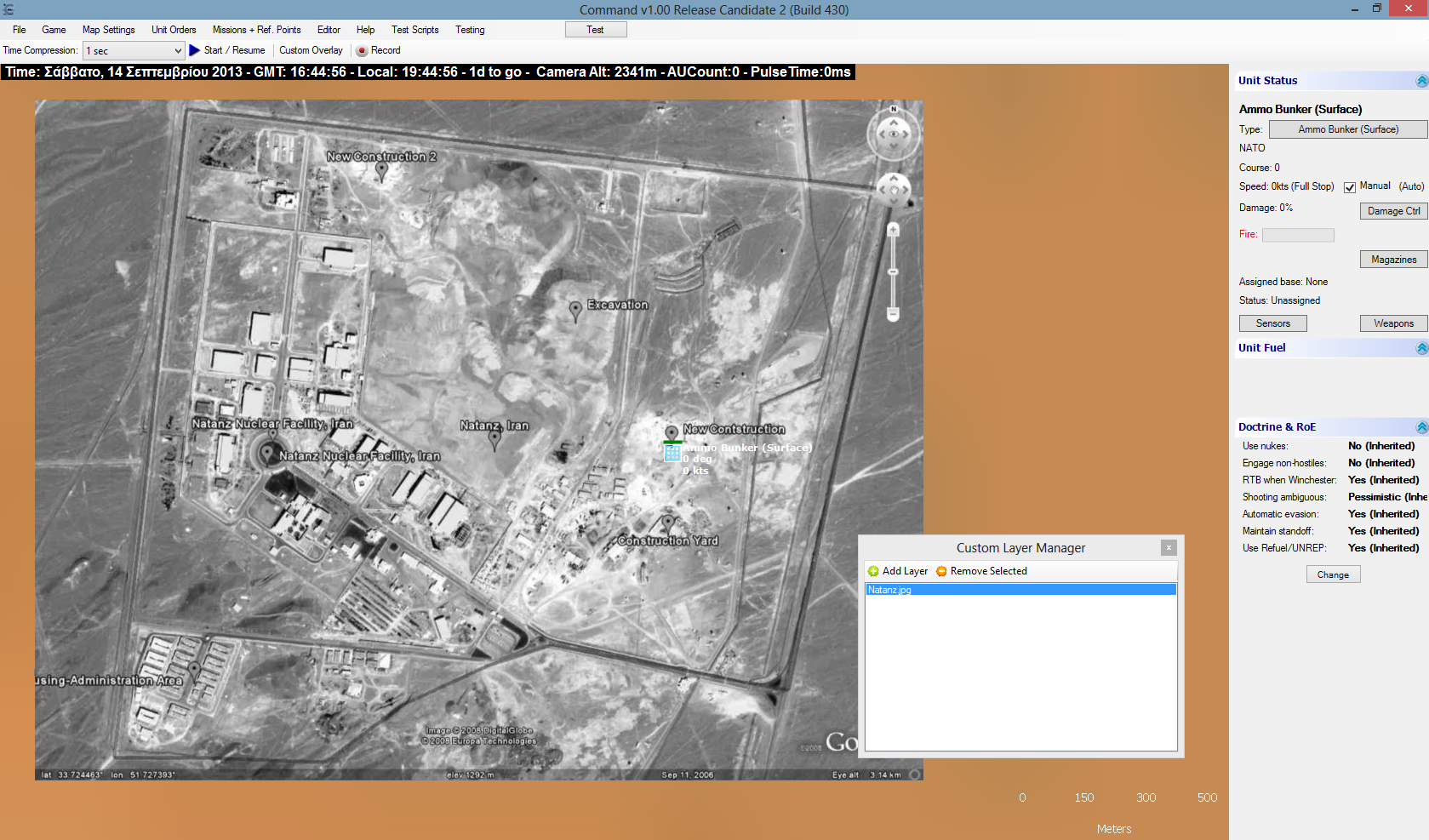 Planning a detailed strike on Natanz's nuclear facilities is now a hobby for the entire family
In addition, players can import and use their own custom overlay images, generated from Google Earth or any other GIS system able to generate geo-referenced image files. These can be used to spice-up a scenario with highly-detailed overhead images, but their big payoff comes when constructing detailed land facilities: Want to build your favorite airbase down to the last hardened shelter? Import an overhead photo of it and simply place the facilities literally on top of their real-life locations.
Multi-monitor support: This is one of the benefits of using the Windows desktop environment. Want to stretch the map across all monitors? Check. Want to park the map on the big monitor and pull the secondary information windows on the smaller ones? Can do. One of the future improvements will be the ability to permanently place secondary windows on specific monitors so that they need not be arranged on each play session.
Two-monitor setup
A better message log: Command follows on the footsteps of logging paradigms established by other great existing games, but does so one better. Apart from a greatly expanded set of messages, Command provides the ability to customize each message type to (a) not appear at all, (b) be printed to the visible message log, or (c) appear on the message log and also generate a pop-up message that draws the player's attention, allows jumping to the location of the message's related event, and automatically stops the simulation clock. (If you are reluctant about using time acceleration "because suddenly there's like 200 enemy missiles detected and by the time I stop the clock my ships are already toast", you will probably love that last one: Just set the "New weapon contact" message type to generate the pop-up).
Color-coded for your convenience
Command provides two ways of accessing logged messages: You can either have them directly on the corner of the main screen, WoW-style (the default mode), or have them printed on a separate window. The former is more space-efficient; the latter is preferred by folks who have trouble reading the messages through the map background and may also be more suitable in a multiple-monitor environment.
Mouse-cursor rich info: What is the depth/elevation at these coordinates? What's the weather like there? How rough is the terrain? How strong is the thermal layer, and how deep it starts and finishes? What about convergence zones? What's the local time? Is it dawn, day or dusk? What's the local temperature? What's the wind and sea state? Clear sky or solid cloud cover? Dry or soaking humid? Countless parameters of crucial tactical importance are location-based, and the fastest way to get them is to point the mouse cursor to the location and read them right next to it. "But I didn't know" is no longer a valid excuse.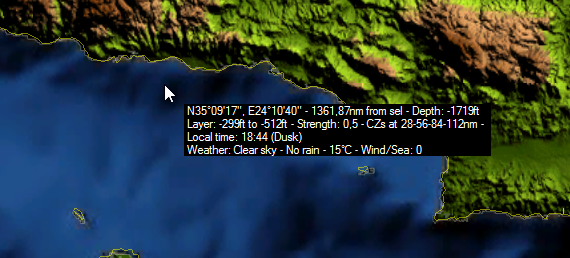 "OK yeah, but where are the nearest burger joints?"
Integrated database viewer: Command's databases feature thousands of aircraft, ships, submarines, land units & facilities, satellites, sensors, weapons, loadouts, comms & datalinks, magazines, propulsion systems, air facilities & docking facilities – and the DB viewer bares them all. Apart from "manual" browsing with various search filters ("list all Dutch ships ending with 'Grigorovich'" – ummm….) , the viewer is also tightly integrated with various information windows used throughout the game; for example if a contact is positively classified, the player can click on its classification name and the DB automatically brings up the relevant entry.
"Some assembly required"
In addition, each DB entry can be supplemented by text and images provided as individual files; this allows us to provide the ability to populate these fields without copyright/IP concerns (since they are not bundled with the game). Already the beta-testing community is busy providing text & image files matching the DB entries and we fully expect this trend to explode in the future.
Record and replay: Yes, that's right. That one time when you sank the Kirov with nothing but a bomb-laden A-7 and brass balls can now be recorded and shown off for posterity (the strike, not the balls). Recorded files can be saved and swapped among players for any purpose ranging from bragging rights to educating others on weapons & tactics.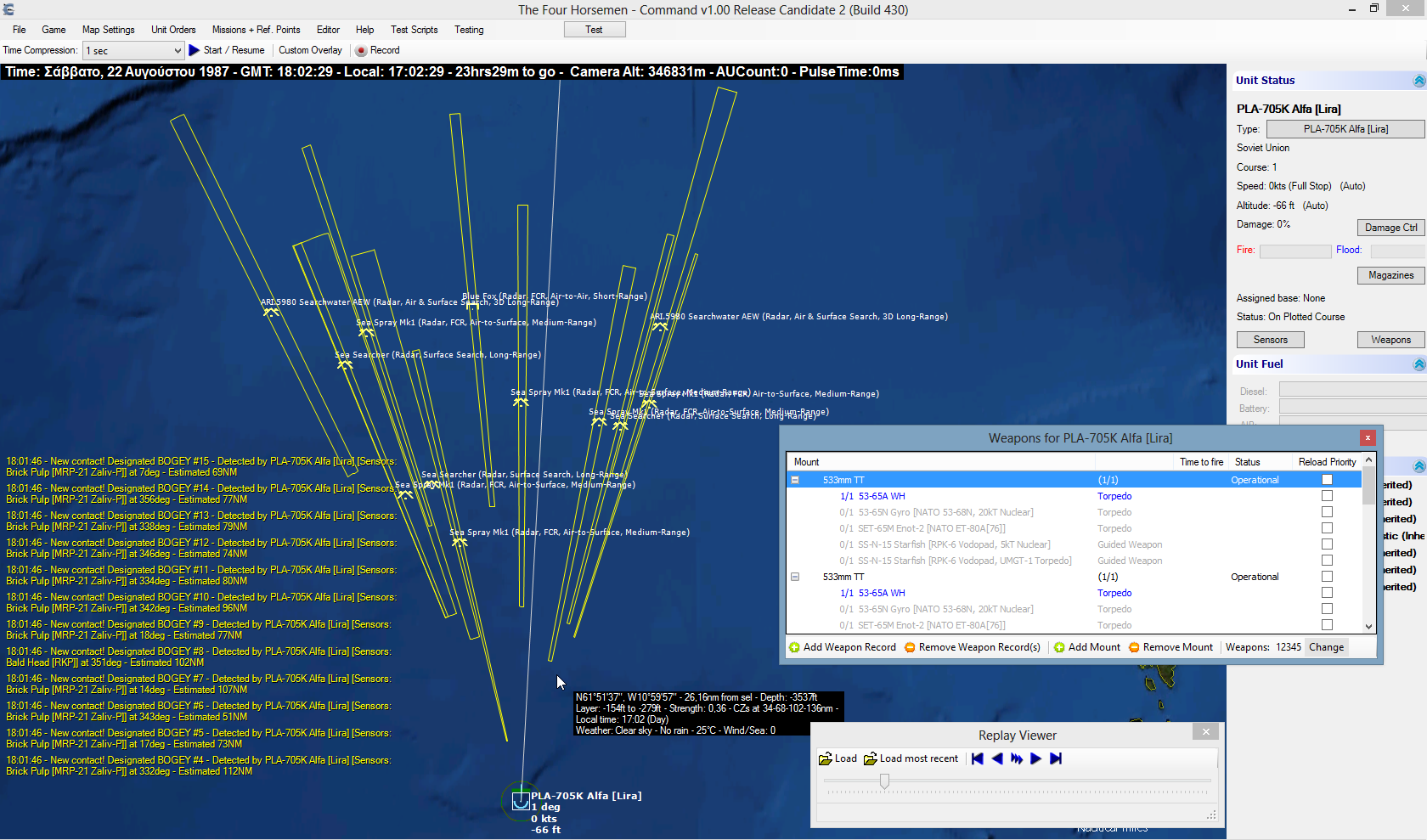 Almost as good as watching season 1 of the X-Files
And the coup de grace: Not only can you go back in time and see what you saw and did at any point, as well as see the same tactical situation from any side's point of view (as well as the "ground truth"), but you can also resume play from any point. So you can repeatedly try different possible answers to a given tactical problem and see what works and what doesn't – and why, and how regularly, and what which factors really matter. Needless to mention, this feature (along with some others) has already drawn very strong interest from defense professionals.
Comments