Command Professional Edition: 23 nations, 150+ orgs, 3000+ users
Video: Command PE as used in the USAF/UDRI's "Virtual Global Power Projection" initiative:
Tutorial videos now available! Novice – Intermediate – Expert

Command Professional Edition (Command PE / CPE) is the pro-oriented superset of Command: Modern Operations, the award-winning wargame that took the serious gaming community by storm. CPE is available for professional use by commercial, government and military organizations.
Boasting "by default" its powerful, scalable simulation engine, flexible and customizable user interface and breathtaking open-source database, CPE can be tailored to meet your organization's wargaming, training, analysis and  M&S needs.
Some of the disclosable users of Command PE – contacts us for more details


---
THE SWISS ARMY KNIFE OF MILITARY GAMING & SIMULATION
Interactive & statistical analysis of hardware, systems, tactics & CONOPS, logistics etc.
Staff training
Modeling & Simulation, both as a standalone tool and integrated into existing M&S environments
Wargaming, in standalone mode or as part of larger gaming environments (MBXs, staff exercises etc.)
---
BUILT ON SOLID FOUNDATIONS
SCOPE:
Air, naval, near-space, strategic and ground (limited) operations
Tactical / Operational scale: technical, tactical and human factors matter, but so do intelligence, doctrine, sustainment, logistics and long-term planning
From 1-vs-1 tactical engagements all the way to theater- and global-wide conflict.
BREADTH AND DEPTH
A peerless open-source database of aircraft, ships, submarines, ground units, satellites and their sub-systems & components
All major military forces from 1946 to the near-future
Physics- and effects-based kinematics, sensor, weapon/warhead/damage and other models
High priority focus on accuracy & detail
EASE OF USE
Construct a simple scenario in minutes – and automate building ever-bigger blocks for your monster setups
Standard Windows interface, commodity PC hardware
Extensive training and support options available
---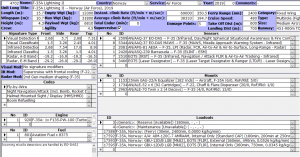 FLEXIBILITY: YOUR DATA, YOUR MODELS, YOUR SIM
Simulation data separate from the core engine
Powerful, integrated database editor and related tools
Create a new variant of an existing platform or component in minutes – or create a new item from scratch
Customizable terrain & environment
Configurable mechanics overrides: Change how the simulation internals work – make it simpler, more complex, or integrate your own sensitive/proprietary material
---
AN ANALYST'S PLAYPEN
Export various events to numerous export destinations (raw text, XML, databases, custom tools etc.)
Export unit positions, AI logic, weapon engagements, fuel consumption and transfer, air & docking ops and more
Analyze interactively (just like playing a game) or go massive with automated (Monte Carlo) mode
Run multiple analysis runs concurrently – either on same scenario or different variations
Go big with automated command-line execution for massive-scale analysis (machine learning, large datasets etc.)
View results summaries and drill-down to factors/causes of outliers & surprises
Store for long-term analysis or feed data to real-time dashboards – or both at the same time!
---
WORKS WITH YOUR EXISTING SYSTEMS
Numerous options for interoperability & data export & exchange
Connect directly to running simulation from outside system through TCP/IP and Lua
Selectively override built-in mechanics and replace them with external replacements
Fine-grained collaboration – delegate as much or as little work to CPE as you want
DIS support
---
USED AND TRUSTED WORLDWIDE
Established and diverse user base in US armed services, NATO & allied military services
Multiple state, private & NGO organizations
Commercial entertainment version (CMANO & CMO) unofficially used worldwide
---
FULL FEATURES
Currently available functionality exclusive to Command PE:
Planned & future features:
ATO compliance
Migration to 64-bit architecture
CPE-as-service (web API)
Improved drone modeling
Manned-Unmanned Teaming (MUM-T) modeling
Multiple-unit LOS tool
Explicit inter-platform comms networks
Hypersonics improvements
DRFM-based EA
Finite EA resources modeling
EA/Cyber ops integrated into mission planning
Extended space operations
Extended tactical/operational land combat
Explicit PNT (Position – Navigation – Timing) components & effects
Ability to use on-demand commercial imagery – Other providers such as Google Maps
and much more…
---
LICENSE TIERS
Command-PE is available in several license versions to suit intended user base, feature needs and budgets:
Mil/Gov Edition is a "license upgrade" to commercial CMANO/CMO, and constitutes the ideal choice for government & private-sector organizations that do not require Command-PE's additional features but wish to employ the commercial CMANO/CMO product for professional use. (Use of the commercial CMANO license in professional context is prohibited by the EULA) 
Student Edition is suitable for use by military academies and other teaching/training environments where an affordable, mass-deployed software solution is desirable. It is very similar in feature set to the commercial version of CMANO/CMO but differs in licensing and pricing options.
Academic Edition is suitable for government & private-sector organizations that require Command-PE's powerful analysis features, but do not need to alter the simulation's default data & models.
Standard Edition offers a big leap in capabilities as it enables full database editing, Monte-Carlo (headless) analysis, Lua TCP/IP connectivity and high-resolution terrain data and offline satellite maps.
Premium Edition unleashes the full power of Command-PE with dedicated command-line version for truly massive-scale analysis, integrated mechanics overrides, DB migration & merge tools, DIS support and the ability to run in a secure (isolated from the Internet) network.
Per-seat, site-wide and enterprise-wide licensing options are available.
The differences & licensing & feature set are summarized below (click to enlarge):
Matrix Pro Sims offers dedicated training & customer support services for any selected PE configuration – ensuring maximum return on your investment.
Contact us to find out how Command can fulfill your organization's requirements at an unbeatable combination of performance, support and TCO.