Command: Modern Operations
Available on Matrix Games, Steam and other online sellers
Dev diaries:
THE KING IS BACK.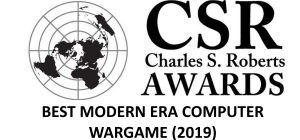 The first release of Command rocked the foundations of modern PC wargaming, steamrolled its way into the Pentagon and won numerous "Wargame Of The Year" awards. Now, the Command dev team are back at it with a vengeance! The already legendary game of modern cross-domain operations returns with an all-new UI, even more refined simulation mechanics and a host of new features and content to engross you into the challenges of warfare from post-WW2 all the way into the foreseeable future.
---
The premier cross-domain operations game returns for more. No man, and no armed service, is an island. Aircraft, ships, submarines, ground forces and installations, satellites and even strategic weapons are at your disposal. You are given the forces and their hardware; but you have to direct them wisely.
The world at your fingertips. You asked for a faster, smoother earth-globe interface with richer, even more detailed map layers – and you got it! Over half a terabyte's worth of satellite imagery and terrain elevation combine to deliver an unprecedentedly crisp battlefield for your forces to roam.
A refreshed user interface. Command's new slick, dark-themed UI slams you right into the seat of a modern-day military command center and never lets go. Play in desktop-standard window or gamelike full-screen mode. Arrange your secondary info windows just how you like them – or park them into extra monitors. Customize your map and info windows to perfection to suit your play style.
Your game, your requests, your features. Hundreds of changes and additions to gameplay based directly on user feedback means the game is now yours more than ever. Minimaps? Check. Quickly load recent scenarios or saves? Yup. Real-time dynamic ORBATs of both friendly forces and known contacts? Yes sir. Time-step sim execution to prevent "runaway sim"? Can do. Glorious victories or crushing defeats have never felt so easy to experience.
Even more real, even more merciless: Don't spend too long gawking at the pretty maps, because the battlefield is even more alive and ready to crush you! Expanded ground ops let you take advantage of distinct terrain types (desert, forest, urban, swamps etc.) for mobility, weapon effects and visibility. Enhanced AI routines for dogfights and even more technical factors make your grip on air superiority more tenuous. The groundbreaking features of the "Chains Of War" campaign are now standard: Disrupt your enemy's communications to isolate his units (but watch out for your own), perform scriptless amphibious, airdrop or pickup operations, watch as aircraft limber back shot almost to pieces and marvel at exotic new weaponry.
People matter – now even more. Even at the dawn of unmanned systems, combat is not a dry hardware comparison. Your war machines are crewed or remote-controlled by human beings: people trained with varied proficiency (from novice to ace), operating under custom doctrine and rules of engagement (when to do what, how to decide, how to react etc.), most of the time making the rational decision, and sometimes making a brilliant call or a mistake. These people often matter far more than the hardware. The deadliest combat units are only as sharp as their crews.
Warfare across the world. Korea. Colonial wars. Vietnam. Middle East. Cuba. Falklands. Iran-Iraq. World War 3. Desert Storm. India & Pakistan. The Arctic circle. Past and future conflicts in the Pacific, Norwegian Sea, Russian & Chinese periphery and more. Experience conflict from post-WW2 all the way to 2020+ and beyond, in more than 600 official and community scenarios. Test your mettle against lethal land-based missile batteries, air regiments, naval fleets or pirate groups. Face off against threats of the past, present and future. How do you measure up against the challenges of modern warfare?
Jump quickly into battle, or build your own war. The new "Quick Battle Generator" lets you quickly get into the action without worrying about wider strategic or political complexities. Or use the ultra-powerful scenario editor to put together your own dream battle just the way you want it. Enhanced scripting capabilities through the built-in Lua engine mean you can even create your own combat AIs. Think you can create your own WOPR/Joshua? Prove it!
All the classics, and new performances. All the original Command official scenarios remastered from scratch by professional scenario designer Rory Noonan (author of the "Silent Service" scenario set), plus brand-new official and community scenarios to quench your wargaming appetite. Updated cold-war and modern-day databases with the latest in hardware and systems mean you'll never run out of setups to try out. Seamlessly import and use your existing Command scenarios, saves, .inst files and more!
Command: Modern Operations. Just when you thought it cannot get any better.