New Command scenario: Solomon Islands Incursion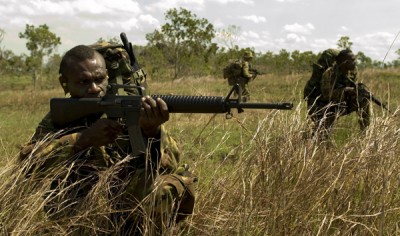 Database – DB3000
Author – Nick Dowling 'NickD'
This scenario models a fictional Papua New Guinea Defence Force incursion into the Solomon Islands following a breakdown in negotiations between the Bougainville Revolutionary Army (BRA) and the Papua New Guinea government.
Situation
Following the breakdown in negotiations with the Bougainville Revolutionary Army earlier this year Papua New Guinea Defence Force units on and around Bougainville have been under considerable pressure from the rebel forces. The BRA has built up a small fleet of ships in recent months, and have succeeded in smuggling large amounts of weapons and ammunition through the blockade.
Until recently the source of these weapons and ships has been a mystery. However, a month ago a highly-placed source in the Solomon Islands parliament confirmed that the government has transferred stocks of weapons, ammunition and other equipment from the Royal Solomon Islands Police Force to the BRA. The RSIPF and BRA have also been sharing intelligence on PNGDF deployments.
It is believed that the main logistics centre for the BRA in the Solomon Islands is located on Nidero Island. The rear headquarters of the BRA may also be located on this island.
Objectives
The Papua New Guinea Cabinet has authorised a raid on Nidero Island to destroy the BRA facilities there. This operation is to be conducted by two platoons from the 1st Battalion, Royal Pacific Islands Regiment who have embarked on HMPNGS Buna.
Execution
Two patrol boats have been assigned to escort HMPNGS Buna to Nidero Island. A Nomad transport plane is also available to provide air cover.
It will take one hour to land the soldiers once HMPNGS Buna arrives off Nidero Island. The landing ship must remain within coordinates A-B-C-D during this period.
A section of the 1st Battalion, Royal Pacific Islands Regiment's mortar platoon has also been emarked on HMPNGS Buna an can provide fire support for naval forces. However, most of the unit's ammunition needs to be reserved for use on Nidero Island and only 40 rounds are available.
Enemy forces
The BRA is believed to operate two or three small armed fishing boats. If located, these should be engaged and destroyed. Any BRA smuggling craft which are sighted may also be attacked.
Both of the Royal Solomon Islands Police Force's patrol boats are believed to be at sea. They may be fired upon if they approach your force agressively. It is believed that the RSIPF has charted a small civilian aircraft to conduct maritime patrols.
Neutral forces
The Australian Government has learned of the upcoming raid from its intelligence sources. Australian diplomats have argued in closed-door meetings that the raid is an unessessary escalation of the Bougainville War, and have attempted to prevent it. It is expected that Australian Defence Force units will monitor the operation, but are unlikely to intervene. You may fire upon Australian units only if they attack your forces.
A large number of civilian fishing boats and other commercial ships are likely to be encountered. These may not be attacked.
Comments