FARNBOROUGH, UK – It has been an intense and exciting week at BAE Systems headquarters in Farnborough as the fifth Command PE event came to a close. This time Slitherine and WarfareSims put together a week-long conference for a diverse set of participants, from existing professional users, to new clients, to prospects and existing strategic partners.
Over one hundred delegates coming from all over the world attended both plenary sessions and one-to-one meetings to debate about the future of professional wargaming and simulation and on the specifics of what is now an established benchmark software in the sector. Command PE has taken the lead as one of the most powerful and flexible software for planning, analysis, and training in the defense and military simulation sector and the amount of interest towards this product has grown immensely over the past few months.
The list of attendees to the Farnborough training week includes representatives from both public institutions such as USMC, USAF, DSTL, Luftwaffe and RAAF and private corporations such as BAE Systems Air, BAE Subs, Microsoft and Improbable. The presence of the latter two companies, in particular, is the testament of how closely the videogames and defense/military sectors can interact when it comes to developing game-based experiences for professional purposes.
Slitherine and WarfareSims thank all attendees for their presence and extremely helpful feedback, and are already looking forward to the future. The next CPE user conference will take place at the University of Dayton Research Institute (UDRI) during June 15th-18th in Dayton, Ohio. If you would like to attend, please get in touch!
Some of our professional customers have been waiting for this with great anticipation, and now it is finally here: Command PE v1.14.5 is available for download & use.
Following on the footsteps of the groundbreaking PE v1.14 release , the new update includes a plethora of tweaks, fixes and improvements based on customer feedback, as well as some new features & content:
New scenario editor feature: merge multiple scenarios. This brand-new feature allows bringing together multiple scenario files and combining their elements into a single scenario. This ability can be leveraged in a number of creative ways; for example, storing the ORBATs, properties and regular missions (patrols etc.) of entire sides in template scenarios and then merging them to produce the actual working scenario. It also allows multiple persons to collaborate on different parts of a scenario before integrating them, thus boosting production & analysis throughput.

Significant improvements in analysis speed, scalability & reliability (both in interactive & Monte-Carlo modes). Every part of the sim-core execution pipeline has been optimized to boost performance and make the analysis workflow more robust (according to one of our customers who tested this, "it stopped running only when we ran out of disk space [for the data logs]"). A memory-leak issue that first appeared in v1.14 (it had the effect of reducing performance as the number of analysis iterations grew) has also been identified and eliminated.
When the "weapon endgame" event type is exported, the event-export framework now also outputs the various events of the point-defence phase (countermeasures & decoys being deployed, DECM jammers attempting to defeat incoming weapons, close-in weapons attempting to hard-kill threats etc.).
New WRA category type: Micro-UAV. This allows tailoring weapon allocation & firing doctrine against micro-UAV targets (such as popular commercial-derived drones) and experiment with different force & fire ratios against them.
Automated setting the registry settings for proper 4K/UHD support. Command-PE will attempt to automatically set the optimum settings for a high-DPI/4K desktop; if unsuccessful, it prompts the user for the manual instructions to do the same.
Fresh versions of the DB3000 & CWDB databases, with many additions and a major data change: GPS and Laser guided bombs (with a handful of exceptions – see the release notes) now have a minimum launch altitude of 2,000ft AGL vs the previous 10,000ft. This allows launch profiles more closely resembling RL ops.
The new PE update is an important step on our development timeline as we are about to embark on a number of new pro-oriented development projects. Watch this space!
During the week of January 14 to 18, select members of WarfareSims and MatrixGames LLC presented Command PE at the Luftwaffe Officer School and trained officers of various branches of the German armed forces in its use and capabilities. It was a very successful event, and we would like to thank the entire staff of the academy, and especially Maj Silier, Lt Col Lochner, Lt Fleischmann and Lt Scholz for their coordination of the event and the above-and-beyond hospitality that they extended to us.
Following is the English translation of the official description of the event, as presented on the Luftwaffe website (original here).
---
"Command" – Digital practice for the real world
Berlin, 21.01.2019
Many factors determine the outcome of a battle: from the logistics and the deployment of the soldiers, to the morale of the troops or the supply of equipment. Ultimately, it is crucial to consider all factors and to deduce the right tactics from them. For this purpose, course participants at the Officer School of the Air Force use the simulation software "Command: Modern Air / Naval Operations".
The program is used to represent air operations. The trainees get a fictional scenario by considering all the factors relevant to a battle and then having to plan their operations. "We then integrate the planning of the course participants into the software and see if their plan works," explains Major Thomas Silier. He is a specialist in air force doctrine & tactics, and also the project manager for the introduction of Command at the Officers School of the Air Force (OSLw).
In fact, the software was originally designed not for the military but as a publicly available game. However, battles, and especially various air operations, are depicted so realistically that "the German and even the American armed forces have realized that Command has the potential to be used by them" explains Silier. For example, the software provides a comprehensive database of every aircraft from any armed forces back to 1946.
Down to the smallest detail: from planning to simulation
The course participants are divided into different groups. All teams get different tasks that they have to plan for. For example, a group is responsible for protecting the airspace above the operational area. Another, in turn, is responsible for Close Air Support, which is the frontline aerial support of ground forces, " says Silier. Then it's about achieving common coordination. The fuel for the aircraft used must be determined, tankers must be on site in time and the respective operating times of the forces must be deduced.
"I am very impressed by how complex the program is," says Lieutenant Markus Kribelbauer. He used the program as a participant in the last officers' class. In addition, he was fascinated by how much work Silier and his team have invested in addition. "From creating custom Excel spreadsheets to determine operating times to calculating the fuel consumption of the respective aircraft – I found that extremely impressive," he says enthusiastically.
Kribelbauer is certain that, for the Luftwaffe, the program definitely offers added value: "Whereas previously you had to present lessons with Power Point or othertools, and now you can present everything actually simulated, the software offers a great deal of added value."
Therefore, it is now being examined whether the software can also assist other areas of the Air Force. The program will be tested in a three-month trial period. Representatives of the various branches were recently briefed in Fürstenfeldbruck about the program. If Command makes a positive impression here as well, then the software could soon be used not only at the Luftwaffe Officer School, but in wider parts of the Air Force.
ATHENS, GREECE – WarfareSims Professional Services and MatrixGames LLC are pleased to announce the official release of Command PE v1.14, the new major update to Command Professional Edition.
Version v1.14 is arguably the biggest update to Command PE so far, featuring a number of important functionality additions:
DIS support enables Command PE to interoperate with other systems in a common real-time simulation environment, using the Distributed Interactive Simulation standard. Less visible, but equally important, is the remote-entity framework developed for interfacing DIS with the existing Command environment: This can be re-used and extended in the future for other connectors like HLA, CIGI, AIS, ADS-B etc.
Configurable Mechanics Overrides allows much more flexible overrides without the need for customer-exclusive builds. It also offers a number of publicly-available overrides (in addition to the private customer-specific ones) and makes it significantly easier to implement additional overrides in future releases. End-users can thus more rapidly add their own extensions to the simulation (classified models, abstractions, more elaborate mechanics etc.) and implement new ways to interoperate with their existing infrastructure.
The ability to export to SIMDIS offers a new rich 3D visualization option, using a platform already in high usage across US and NATO operators. Combined with the existing support for Tacview (both file-based and real-time streaming) and future support for the CIGI protocol, Command PE's options for external visualization and analysis are rapidly expanding.
The new Line-of-Sight (LOS) Tool makes it easier than ever to estimate and visualize the actual LOS coverage of an arbitrary platform anywhere in Command's virtual environment. Future upgrades to the system may include the ability to combine the LOS-visible areas of multiple platforms, such as when analyzing the coverage of an IADS network.
A new event type, "Docking Operations", allows exporting and subsequently analyzing elements of non-aircraft operations such as boat deployment rates, frequency of port revisits etc.
In addition, the new v475 database update features the latest changes and additions from military hardware worldwide, including available open-source data on the latest US, Russian and Chinese hypersonic & UAV/UCAV development projects.
Development of Command PE continues further, driven by the needs and priorities of its rapidly expanding and diverse user base across the US and NATO allies.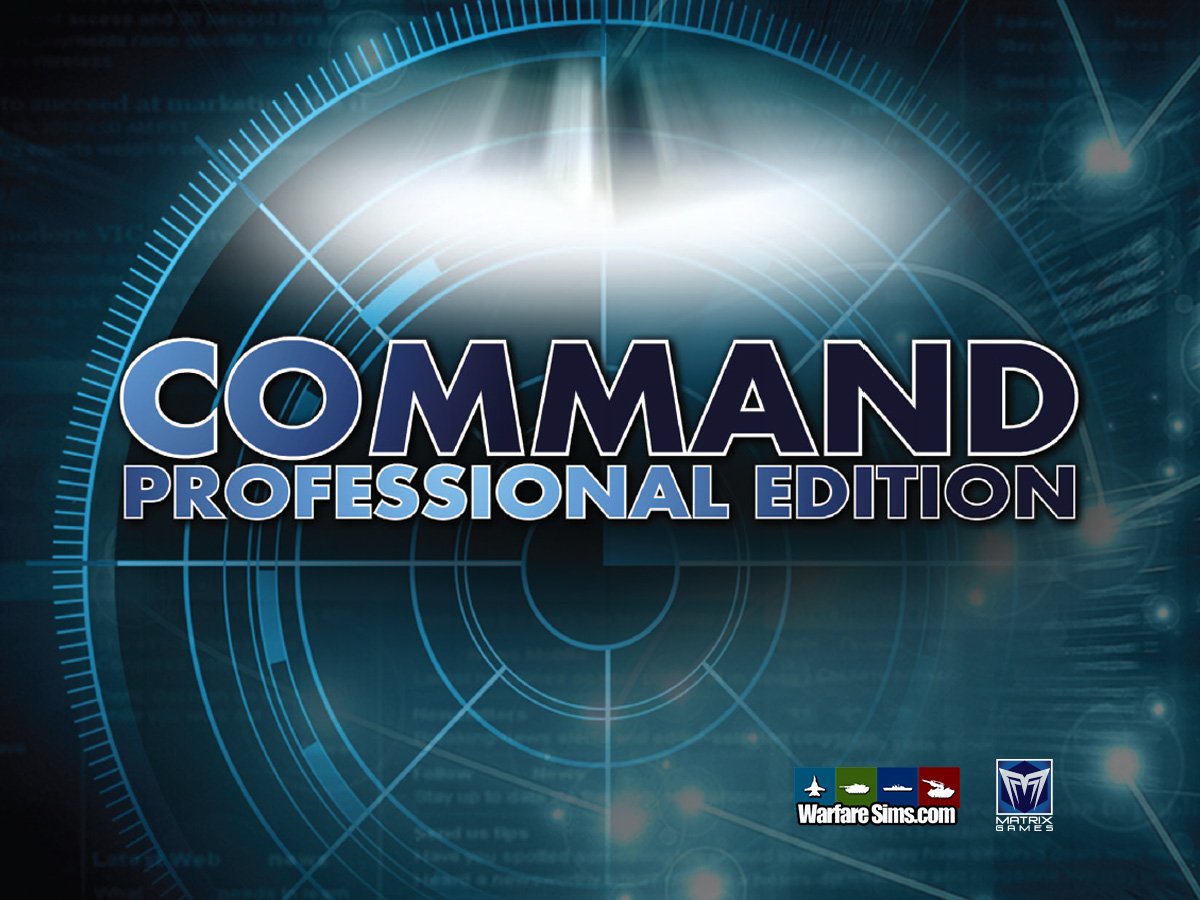 We had a fantastic time last week over at Lockheed Martin's Center For Innovation (Lighthouse). 5 days of intense training on Command PE with people from LM, USN, USAF, RAAF, Luftwaffe, UDRI & DSTL. Tons of extremely useful feedback on taking Command-PE to the next level. We cannot thank enough the LM crew for putting the event together. To everyone who attended – you have been great! Looking forward to seeing all of you again and more.
p.s. Team "Luis Script" crushed team "Joint Strike Trivia" at the Decent People. Better luck next time JSTers!
See also: The game is getting serious: how a commercial video game becomes a military asset