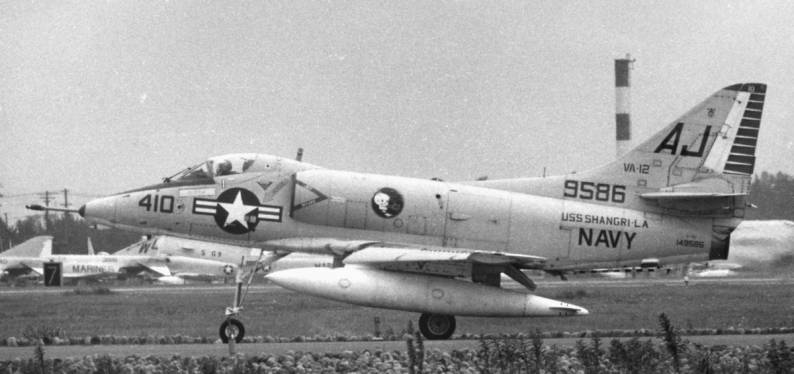 Author: Mark Gellis
This scenario assumes that, in the mid-1960s, tensions increased dramatically between Egypt and the United States.  With Egypt threatening maritime traffic in the eastern Mediterranean, the United States has decided to act.  The President has decided that an air strike against an Egyptian air base will be a suitable demonstration of American firepower and American resolve.
——————————————————-
*** OPERATIONAL: IMMEDIATE ***
ATTN: Commanding Officer, Shangri-la
SITUATION
The situation with Egypt continues to deteriorate.  Egypt is now threatening to attack American-flagged vessels attempting to enter Egyptian waters.  The President has decided that a show of force is necessary to remind Egypt of American firepower and American resolve.
ENEMY FORCES
The most signfiicant threat to your forces will doubtless be the Soviet-supplied aircraft that now makes up much of the Egyptian air force.  In addition, you are likely to encounter Soviet-supplied patrol boats and missile boats.
The Soviet Union almost certainly has some vessels and submarines in the area.  These will probably supply Egypt with intelligence.
FRIENDLY FORCES
Your battle group consists of CVA 38 Shangri-la, DD 701 John W. Weeks, DD 940 Manley, DDG 23 Richard E. Byrd, AO 97 Allagash, and SSN 604 Haddo. 
A detachment of EF-10B Skyknights is at Souda Air Base and is chopped to your command.
MISSION
Proceed to a suitable distance from Mersa Matruh Air Base and conduct air strikes against Egyptian forces located there until you receive further orders.  Your primary goal is to eliminate all aircraft based at Mersa Matruh and to render the base incapable of further use until repairs can be effected.  You are also free to attack targets of opportunity.
Do as much damage as you can.  A principal goal of this mission is to show the Egyptians that we will not tolerate threats to our merchant shipping and that we have the means and the will to inflict significant damage on their homeland whenever we wish to do so.
EXECUTION
It is possible that Soviet forces will approach your vessels.  However, do NOT initiate hostilities with Soviet forces.  You may return fire if you are attacked.
Special weapons release is NOT anticipated.
If necessary, aircraft may refuel at Souda Air Base. 
COMMAND AND SIGNAL
Command: Shangri-La
Signal: EMCON State C (Unrestricted Emissions)
Good luck and Godspeed.
Author: Mark Gellis
During the 1960s, a confrontation took place between Indonesia and Malaysia.  The United Kingdom offered aid to Malaysia during the conflict. 
This scenario assumes that Indonesia was more willing early in the conflict to strike directly at British forces.
——————————————————-
*** OPERATIONAL: IMMEDIATE ***
ATTN: Commanding Officer, Dido
SITUATION
The situation between Indonesia and Malaysia continues to deteriorate.  The British government is committed to protecting Malaysia and its people. 
The town of Serasan, on the Indonesian island of Pulau Serasan, is suspected of being used as a covert base for organizing guerilla warfare against Malaysia.  Intelligence sources report that a landing field for helicopters is being constructed on the island.
Weather is wet, muggy, and uncomfortable, and expected to remain so for the foreseeable future.  Temperatures will rise to about 90 degrees Fahrenheit.  Skies will be cloudy and moderate rain will continue all day and into the night.  Winds will be light, however, and Sea State 2 are the roughest conditions you are likely to experience.   
ENEMY FORCES
Unknown.  Indonesia has some light naval forces in the area.  The scope and quality of the defenses on Pulau Serasan are unknown, but almost certainly include anti-aircraft artillery, possibly 40mm or 57mm guns.  Use caution if you conduct flights over the island.
Potential air and submarine threats are believed to be minimal or nonexistent. 
FRIENDLY FORCES
Your surface group consists of the F 104 Dido and F 102 Zest. 
A Canberra reconnaissance aircraft has been flown to Sibu and is available to assist you.
MISSION
Scout out the area around Serasan.  If you discover the Indonesian landing field, or any facilities that may be supporting it, destroy it and any supporting facilities. 
EXECUTION
At your discretion.
COMMAND AND SIGNAL
Command: Dido
Signal: EMCON State C (Unrestricted Emissions)
Good luck.  God Save the Queen.
Author: Coiler12
The world's most modern and powerful SEAD/ECM plane and SAM system share the same name. Now they meet in an exercise.
——————————-
-REDFOR has positioned an advanced SAM battery on the island to the northeast, along with a legacy search radar. The SAM battery is the primary target, and the search radar a secondary one. Use your squadron of EA-18 Growlers to take out all enemy radars on the island.
Author: CassioM
BRAZIL vs. UNITED STATES
LOCATION: RIO DE JANEIRO COAST, BRAZIL
DATE/TIME: 03 MAR 2010 / 23:00 ZULU / 20:00 JULIET
PLAYABLE SIDES: MARINHA DO BRASIL (BRAZILIAN NAVY)
USQUE AD SUB AQUAM NAUTA SUM
A joint exercise between the Brazilian Navy (Marinha do Brasil) and the U.S. Navy. The Brazilian submarine S-34 Tikuna is tasked to penetrate the mixed task group and sink the nuclear aircraft carrier USS Carl Vinson. This will not be an easy task.
The Brazilian Navy usually do routine exercises with the U.S. Navy. Among these exercises, there are those in which the small, but lethal, conventional Brazilian submarines try to infiltrate the middle of a task group and sink the precious aircraft carrier.
Now is your chance to try this out.
*-*-*-*
Based on an actual exercise that took place in 2010.
*-*-*-*
v1.1 – by CassioM (SAT-07/26/14)
– Minor cosmetic changes.
– Better starting positions for both Tikuna and the Task Group.
– Corrected version of the brazilian submarine. It changed from 2012 version, armed with MK 48 torpedo, to 2006 version, armed with Mk24 Tigerfish torpedo, to match the exercise date in 2010. Now, the exercise will be more harder and realistic.
v1.0 (MON-07/21/14)
*-*-*-*
Usque ad sub aquam nauta sum. "Sailors even underwater" – Motto of the Command of Submarine Force ( Comando da Força de Submarinos – ComForS ), Brazilian Navy.
Author: Mark Gellis
This scenario assumes that tensions have increased between India and Myanmar.
——————————————————-
*** OPERATIONAL: IMMEDIATE ***
ATTN: Commanding Officer, Mysore
SITUATION
Tensions between India and Myanmar have continued to deepen.  We now have reliable intelligence that Myanmar plans to attack Indian-flagged merchant vessels.  This must not be allowed to occur.
The weather in your area is predictably foul.  Temperatures will range between 15 and 35 degrees centigrade, with moderate low clouds, steady rain, and winds around 15 miles per hour.  Sea State 4 is expected. 
ENEMY FORCES
Unknown.  Myanmar has several Chinese-built warships and various Chinese- and Russian-built combat aircraft in its arsenal.  Myanmar also recently purchased two Kilo-class submarines from Russia.  You may assume light to moderate force levels will appear in your area of operation.
FRIENDLY FORCES
Vessels assigned to your task force are D 60 Mysore and D 55 Ranvijay.
S 45 Shankush is chopped to your command.
Available aircraft at Port Blair are chopped to your command.
MISSION
Protect Indian merchant vessels en route to Kolkata from attack.
EXECUTION
Do not initiate hostilities with Burmese forces.  If Burmese forces attack Indian merchants or your forces, however, you are free to return fire and to eliminate any vessels, submarines, or aircraft that appear to be a threat to mercantile traffic or to your forces.
S 45 Shankush should patrol the waters south and east of Kolkata.
Because the situation has deteriorated so rapidly, we have had limited time to prepare for a possible conflict with Myanmar.  In particular, you have limited air assets and ammunition with which to complete this mission, and you are a lot closer to Myanmar than you are to the rest of India.
COMMAND AND SIGNAL
Command: Mysore
Signal: EMCON State C (Unrestricted Emissions) for surface vessels and aircraft; EMCON State A (No Emissions) for Shankush.
Good luck.